About the book, and how to order it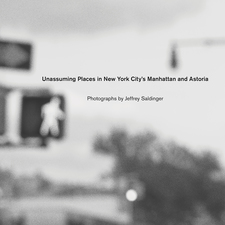 Unassuming Places in New York City's Manhattan and Astoria : Photographs by Jeffrey Saldinger
2020
8-¾ x 8-¾ inches, Smyth sewn, hardcover, with illustrated dust jacket
This book of 72 duotone black-and-white photographs of New York City comprises images from my walks and bus, subway, and taxi rides in Manhattan and Astoria. Thirty-five of the photographs include people, thirty-seven do not.

Some of the photographs that include people reveal their emotional states or allow a viewer latitude in their interpretation. But people also appear in images that may not be felt to have striking human content; these images contain only fragments of figures that serve as elements of the overall composition.

The impact of the photographs that do not include people comes from the visual distinction that I seek in familiar subjects including bakeries, building facades, bus stops, coffee shops, crosswalks, food carts, subway stations, and views through shop windows.